My Real Estate Blog - Market Trends, Tips & Updates
New condo sales in the GTA have slipped back to average levels
2/4/2019 | Posted in GTA Real Estate by Jessi Sandhu | Back to Main Blog Page
Sales of newly-built condos in the Greater Toronto Area fell back to more normal levels in 2018 following the stellar performance of the previous year.
There were 20,028 sales last year according to data from Urbanation, dropping from 34,697 in 2017 and 27,098 in 2016. 2018 sales were in line with the 10-year average of 20,493.
In the fourth quarter of 2018, sales fell to 6,040, down 31% year-over-year. However, 2017's Q4 sales were a record high at 8,816 units.
"The GTA condo market has started to normalize after unprecedented activity in recent years," commented Shaun Hildebrand, president of Urbanation. "Overall, market fundamentals continue to support current sales levels and prices, although greater caution should be exercised with respect to investing in new units, particularly over a short-term time horizon, as current trends are pointing towards slower appreciation going forward."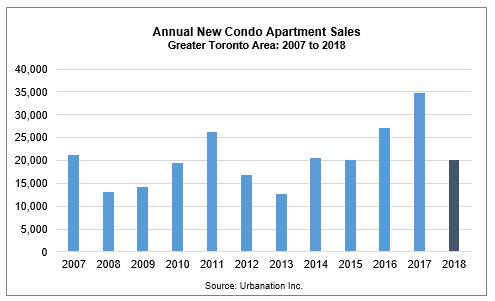 Cautious investors
Investors have become more cautious as prices for pre-sale launches jumped 16% to a new high of $921psf in the GTA and $1,117 for the City of Toronto.
However, price growth is expected to moderate in 2019 due to increased supply (up 29% from 2018) and rent growth is also expected to ease.
The GTA condo resales market is predicted to become more balanced as prices challenge affordability, especially for first-time buyers. In Q4-2018, the average resale unit sold for $584,000, or $690psf based on an average size of 846sf. Condo fees averaged $0.69 psf.
At Your Service
Thinking of buying or selling a property, or have a question regarding the real estate market? Fill out the form below and we'll get back to you promptly.